Know Our Director
Gogineni Srinivasa Rao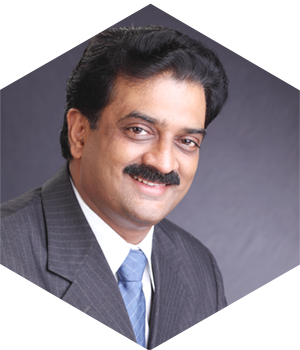 Gogineni Srinivasa Rao
Srinivasa Rao has graduated from Nagarjuna University, Andhra Pradesh in Electronics and Communications (1981-85). He started off as a Marketing Executive at Vinytics Peripherals Pvt Ltd, and later was promoted to Branch Sales Manager and was responsible for Product distribution in all of andhra pradesh's Educational Institutions between 1986 – 1990.
He then became an entrepreneur in 1990, with Future Tech (a.k.a FutureTech Instruments Pvt Ltd since 1996) which manufactured Test and Measuring instruments for Technical & Educational Institutes. FutureTech manufactured over 1000s of various equipments in Electronics Educational Training sector, namely Digital Electronics, Operational Amplifiers, General Purpose Development Systems , Power & Industrial Electronics, Communication Engineering, Fiber Optic Trainers, Instrumentation Trainers, Control Systems Trainers among others
In the year 1996, Future Tech group branched out its operations in Product development, Under which products like SoftOffice, Edu E Campus, E Cart A2Z, and other Customized Softwares were developed, for various Small, Medium and Large scale enterprises. And also started software operations in year 2004.
Srinivas Rao has also ventured into E-Commerce portal operations and provided Web Design, Development, Domain registration and Web Hosting services. Under Future Tech Information Systems Inc, USA www. indiadeals4u.com and www.domainsthebest.com were developed to provide products & services at the lowest prices, and the domains mainly served Indian communities living in USA. The company has recorded a turnover of 1.2 Million USD (2015)
Amidst all development, Srinivasa Rao was elected two times as Secretary for ELIAP (Electronics Industry Association of Andhra Pradesh), and is now elected for third time as Vice President. He also represented Govt. of AP on behalf of ELIAP as a member of CCITI between 2006-2015.
In the year 2014, Future Tech took up projects based on LED & Solar Integrations and has received various certifications such as MSME, Sales TAX/VAT/GST, ISO. And expanded its services across India and other countries. Today FutureTech Stands tall with an annual turnover of ₹200Million.
Future Tech has been servicing various industries since its inception, with not just to educational institutes, but also has a varied clientele which includes but not limited to Anjani Cement, Pennar Industries Limited, Colgate-Palmolive, The Andhra Pradesh Paper Mills Limited, Larsen & Toubro, Global Hospital, Imsofer (Ferrero Group), Voith Turbo, APHMEL (Andhra Pradesh Heavy Machinery & Engineering Limited), Surana Group, Sri Vishnu Educational Society, M&M Technologies, Team Engineers, Suryalata Spinning mills, Rane Brake Lining limited, Dynatech, Virchow, Mechana Pharma among others.